---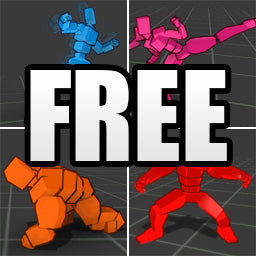 Fighter Pack Bundle FREE
---
A preview sample for the Fighter Pack Bundle!
Characters are setup with Mecanim's Humanoid configuration so you can easily swap your own characters in, and have support for full 5 finger hands to accommodate high detail models. The provided Animation Controllers are clean and concise, or just plug the animations into your existing setup.

Full Bundle Includes
180 Animations

Full Mecanim Humanoid Skeleton with full 5 finger hand support

Clean concise Animator Controller ready to hook into you code

Stationary _S versions of all animations with translation in them for compatibility with Ultimate Fighting Engine and other similar implementation methods.
---
More from this collection