---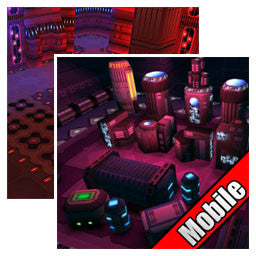 Scifi Level Bundle
---
The Scifi Level Bundle includes both the Top-down Scifi Environment Tileset Pack and the Scifi Objects Pack together for a reduced price, which together allow you to quickly build great looking, mobile ready environments for your gamedev projects!
Top-down Scifi Environment Tileset Pack includes 150+ pieces, walls, floors, columns, edges, chasms, to create endless layouts, and with multiple 512x512 swappable textures for diverse variation possibilities.  Included are collision geometry pieces for efficient physics calculations, and each tile piece also has a secondary UV channel for lightmapping within your game engine.  All the components are highly optimized making it a great choice for mobile development as well.The Scifi Environment Pack is a complete set of modular, tile-based, lowpoly building block prebabs to build great looking scifi levels for your gamedev projects
The Sci-fi Objects Pack consists of 120+ low poly, textured game assets ready for you to use in your game dev projects. These objects range from mainframes, medical equipment, piping, storage, crates, barrels, computers, electronics, containers, cargo, machinery, etc...and all are highly optimized for mobile platforms.  The models come with 2 shared diffuse textures for dynamic or static batching, and some of them are also animated.  The piping models are all based on a 1m unit grid for easy instantiation in the editor. For every model there are 2 different versions of prefabs, one with vertex alpha geometry shadows, along with a custom mobile shader, and one without to be used for forward or deferred rendering.  All are pre-setup with colliders.
---
More from this collection